PLEASE SPAY AND NEUTER YOUR PETS!

SPAYING and NEUTERING is the Answer to the pet overpopulation problem.
98% of cats brought into shelters are euthanized.
10-80 cats are killed each day in the Treasure Valley.
Altered pets are healthier, happier and live longer.
2 unaltered cats in 8 years =2 Million offspring.

Our Low Cost Spay And Neuter Program - Designed for Pet, Stray and Feral Cats
We can offer $40.00 for spays (females) and $30.00 for neuters (males).
The spay and neuter procedure includes: physical exam, anesthesia, surgery monitoring, and a pain management medication.
We can also offer the following services, at a reduced cost, at the same time as the spay/neuter procedure:
-FVRCP vaccine $8.00 Important for all cats (covers common infectious diseases, including the fatal Panleukopenia virus)
-Leukemia vaccine $15.50 Important for all cats that go outdoors (very contagious, fatal virus)
-Rabies vaccine $6.00 Recommended 100% fatal
-FIV/Leukemia test $24.50 Highly recommended for outdoor cats
If this is a kitten or an adult who have never been vaccinated before, the vaccines need to be booster (a second set given) in 4 weeks or the vaccines do not fully cover against disease. We won't be able to provide low cost vaccines beyond the spay and neuter.

Who Can Use Our Low Cost Spay and Neuter Program
The program is intended for low income families who need their pet cats or stray cats fixed. It is also for caretakers of feral cats (wild) or feral cat colonies (family of wild cats). If you can afford to get your pets spayed or neutered without the help of a low cost program, please do, so that we can use our funds to help others who need it.

How To Set Up A Low Cost Spay Or Neuter
You must make the appointment through Conrad Strays.
Please contact us by e-mail at conradstrays@aol.com, (email is the easiest and fastest way to get in an appointment set up)
or by phone at 585-9665.

Please Note
If the cat has symptoms of being sick, such as sneezing, eye discharge, is lethargic etc, it can not have surgery until it is healthy.
The ideal age for spay/neuter is 6 months. Our clinic will neuter younger cats as long as they are at least 3 lbs. Spays have to be at least 4 lbs.

Other Low Cost Spay and Neuter Programs
There are several other animal rescue groups in the area that help with low cost spay and neuter.
SNIP - contact by website snip.org or 968-1338
Pet Haven - 466-1298 (Nampa location)
Canyon County Animal Shelter - (for Canyon county residents only) 455-5920
Feline Friends - Sue 331-2422
www.boiseid.net lists all low cost clinics for cats and dogs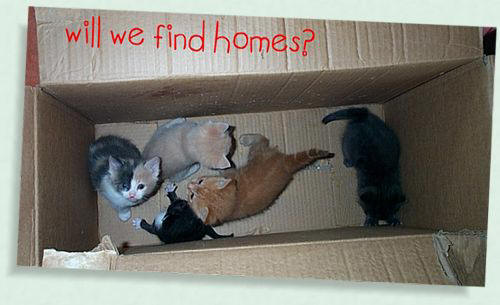 ---